so i posted this in my real-live-regular-straight-people-too journal and figured it might go okay here, too. if not, HOLLA. i've explained anything that's unexplainable.</font></font>
note: this is crossposted all over livejournal like a rash. if you have ever kissed a girl and belong to a community even slightly-at-a-MOLECULAR-level-slightly reminiscient... sort of... of it, you will most likely see it there.
i'm sorry, babies :[

so hey, i'm alice (i always feel the need to introduce myself... hmm.), i'll be 18 in ten days(!!!!), and i live in rhode island. and i'm really, really, really fuckin gay. REALLY gay. haha. just throwing that out there. if one person asks for it (only because i won't plague you all with scrolls and verbal (well, textual) hieroglyphics on My Inner Self if none of you give a fuck) asks, i'll throw some "here's who i REALLY am" stuff. edited to be quaint and eccentric and intriguing in a sexy, carefree kind of way. obvi.
kay.
kay.

okay so enough people in my life have asked me to show photographical evidence of The Transformation I've Recently Undertaken so here we are.

i work at a restaurant that is pretty upscale, but no uniforms. so i have to LEGITIMATELY dress nicely EVERY SHIFT. it's hard, it really actually is.

i even tried to make the contrast not so stark, but, in restrospect, it kind of is.

so here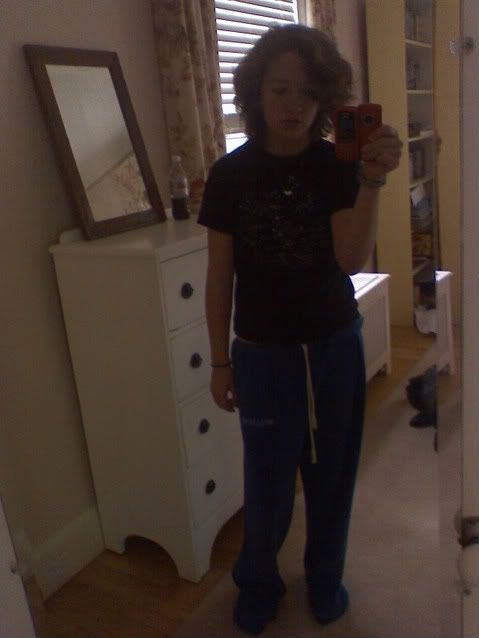 is what i look like usually. frightening, huh? dude, i'm beyond dumpster chic. that's what they're calling mary-kate and ashley these days. i am dumpster not-so-chic. salvation army not "look at this cute vintage find!" but "holy shit if i shop in the little boys' section i can get 10 yrs.' worth of clothes for three cents!" i am a mess.

brave enough to handle more? (i promise i'm not that ALWAYS that crusty-looking! come find out.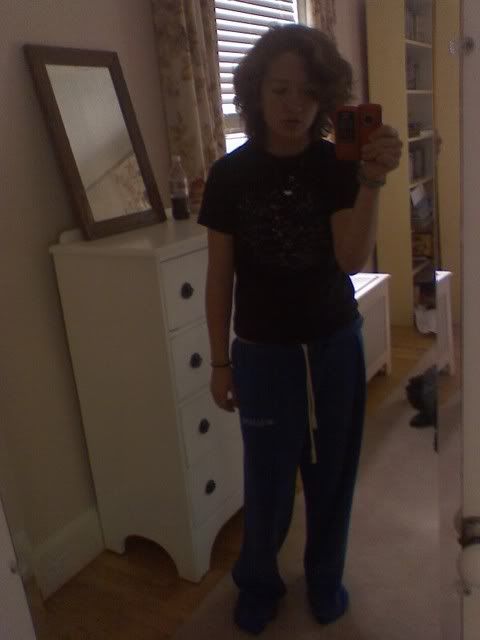 posting it again, bit bigger (same as the rest) because if you clicked it, you want to see it, and i won't feel guilty slaughtering your friends pages. plus it gives you more detailed insight into just what a weirdo i am when it comes to appearing. GUH. luckily, they get slightly better.

next we have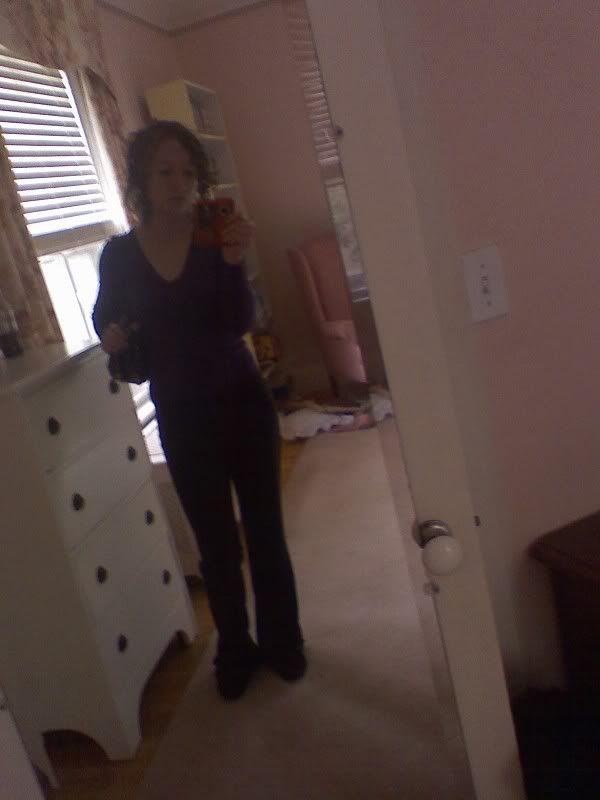 there's the whole shebang. those pants are waaaay too long.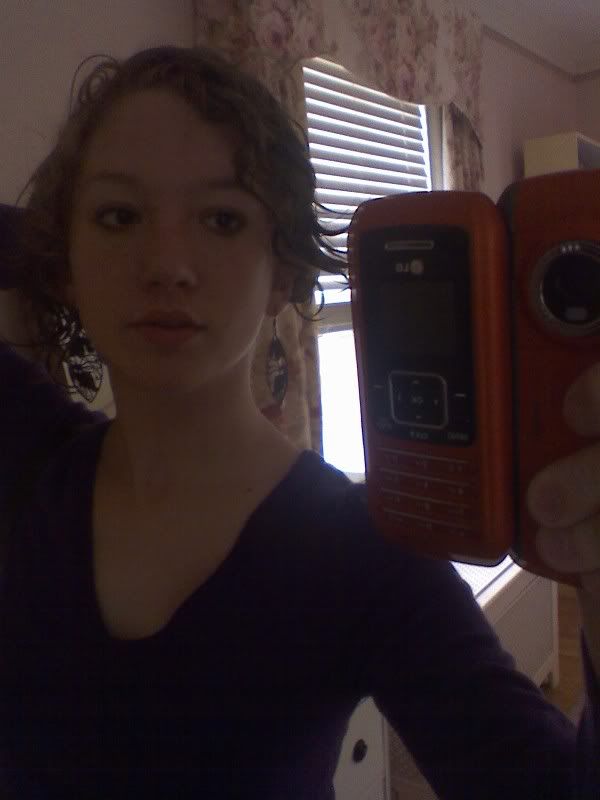 these are my earrings :] (i couldn't wear my bean necklace, a tiffany solid sterling silver PLAIN OLD KIDNEY BEAN that i am known for wearing and NEVER take off... but i usually can't wear it :[ it almost never matches the rest of my jewelry or looks right with the neckline of my shirt or something. when did i ever used to care about that? never is the answer. clash away, cap'n.)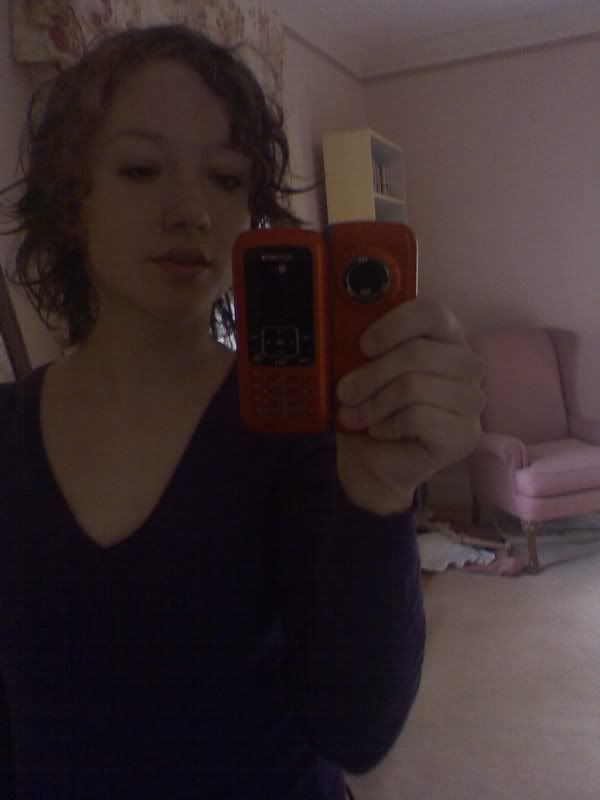 this is what i do with my hair: nothing. it drip dries after i wash it, which is right before every shift. it's licked-a-sparkplug curly here, but wet. foreshadowing to later on, when my head becomes A Shrub.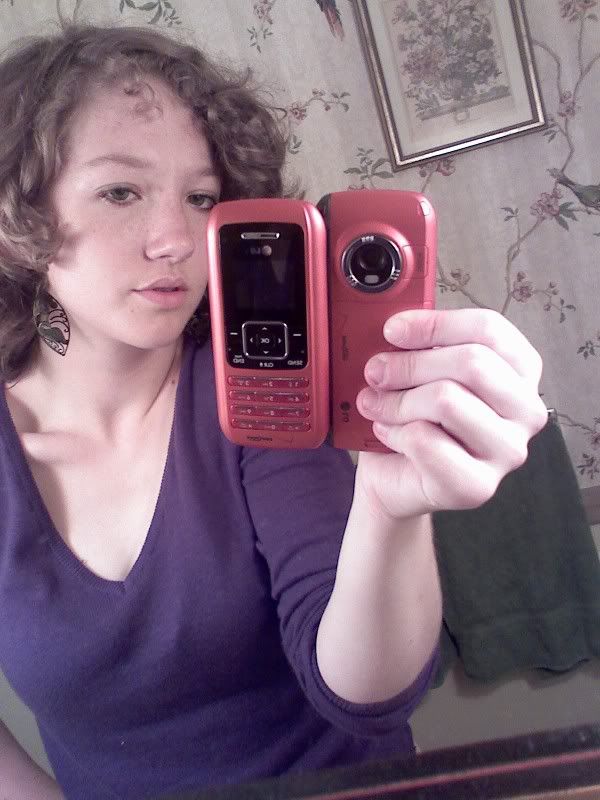 closeup after my shift. dry. shrub ahoy. oh, i'm so seductive. how embarrassing. retch. this is what i look like OFFICIALLY when i'm not deceptively showered and thus hair-controlled and when my makeup looks a little more natural and lived-in. (also: eye emm uh reele hyoomin beeyin -- check out them gnawed-up nails. b.a.)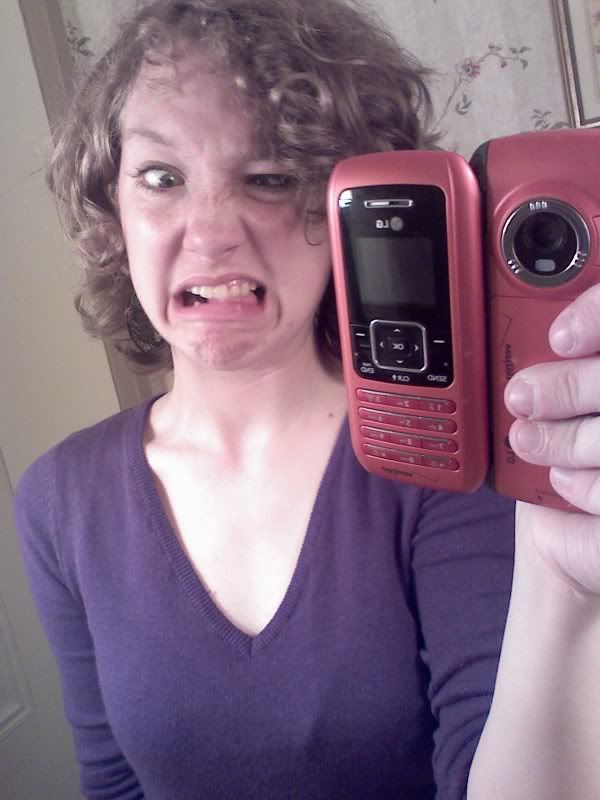 i may feign womanly seductive m0v35 like no othah, but i am still a fucking creep.
what a boogerhead.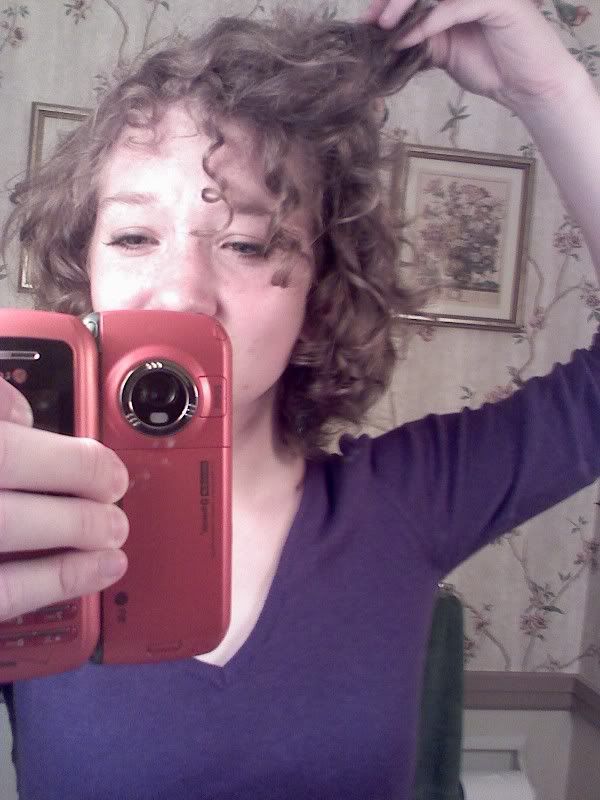 CHECK THEM CURLS. they go hogwild on the underneath, thus making only-the-front-clipped-back-oh-so-in-mode-dos a don't. a frightening don't.

and, for good measure, here's one i took for clothilde, my bestbestbestbestbestbest friend in the GALAXY who just up and moved to france. yeah, i know.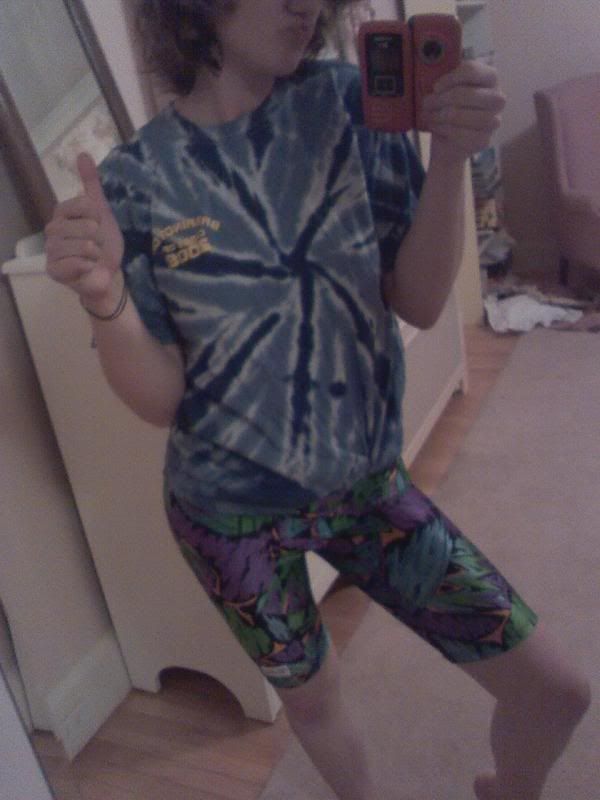 we both have that shirt and it's a "thing" with us... like, we also have identical pairs of underwear, my half of which i happen to also be wearing in the photo, just because. we always wear them (shirt or undies) and think of each other and i just happened to be wearing patternlicious bike short-y spandexy bottoms and decided to kodak that moment and pop it off to france. *sniff*
sorry, you didn't ask for that. hahahahaha.



so that's me. i am a big girl and i have a big girl job and i dress up with other normal human beings and go to work at a fancy job!
coollllll.

what's new with you these days?

hope you're well.
BYE.